We take a closer look at the Land of the Long White Cloud and the opportunities it offers
New Zealand has been a favourite destination of holidaymakers and travellers for decades, thanks to its spectacular scenery, welcoming people, modern lively cities and rich, diverse culture. It regularly features in newspaper and magazine lists of the world's best places to visit, including those compiled by travel experts like Lonely Planet.
What isn't so widely known, however, is that New Zealand is also a fantastic place to study or train. New Zealand has a world-class education system, based on the system that we use here in the UK, so many of its features and qualifications will seem familiar. New Zealand's schools, colleges and universities have world-class facilities, great resources and dedicated, approachable teaching staff.
There is also an enormous choice of subjects to study, from aquaculture to trades, business to wine-making, and at a range of different study levels.
New Zealand's laidback outdoor lifestyle and deserved reputation as a safe, welcoming society has long made it a popular destination for families travelling with children, and its family-friendly reputation also holds true for students with families. Depending on the subject and length of your qualification, it may be possible for your partner to get a work visa tied to your student visa, and for your children to only be charged domestic tuition fees to attend school in New Zealand. 
Key Facts
Population: 4,596,700 (2015 estimate)
Size: 268,021 sq km
Major Cities: Wellington, Auckland, Christchurch
Christchurch: Building a city for the future
Following the earthquake of 2011, the rebuild of the South Island's largest city is creating a wealth of opportunities. The Christchurch rebuild is estimated to be a NZ$40 billion opportunity that will drive decades of growth and development for the city and the wider region.
The rebuild means approximately NZ$4 billion of infrastructure repair in the city, which will result in state of the art utilities, digital networks and services; huge commercial design and development opportunities as the city's existing commercial space is set to triple; and massive residential development as more than 130,000 homes are repaired or replaced. The Christchurch rebuild requires an influx of skilled people from a wide range of sectors and trades into the city.
Christchurch has well-established, innovative colleges and universities that offer training and teaching in the areas that the city needs, both now and in the future. Please see the Christchurch Polytechnic profile for more, or contact Study Options for details of the courses taught by the University of Canterbury and Lincoln University.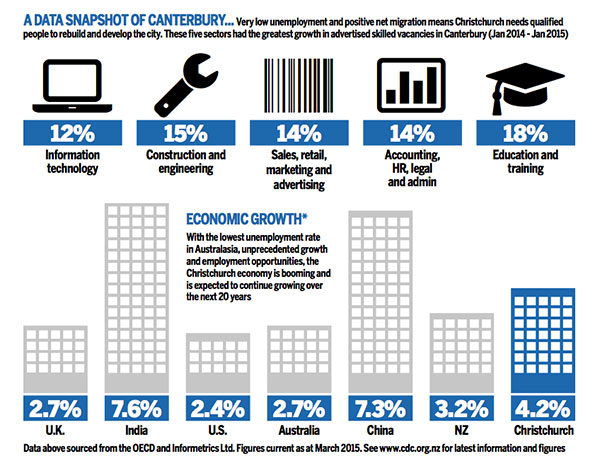 Statistics from the Canterbury Development Corporation